Happy Friday Ladies!
I just got done with my "Buns and Abs" class at Blue Water Fitness. I am so happy that I found this gym! It's two miles away so I get to ride my beach cruiser there and back on days I'm feeling extra peppy. I love living somewhere that I can ride to the gym or grocery store if I need just an item or two. Rosie loves riding in the basket, but since she has grown into a little teen pup, I'm going to search for a bigger front basket. Below is Rosie on her first bike ride when she was a baby!
Today, I'm linking up with
Ashley
for Friday's Letteres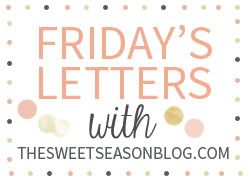 Dear Blogger Friends, Thank you for this great experience! I am so happy that I have started blogging! I've met some sweet girls already and really enjoy reading other girls stories. This is going to be so neat to look back on, especially when we decide to start a little family of three.
Dear Farmers Market, I can't wait to see what goods you have tomorrow! I don't think I'll be able to drag Nick along that early, but I don't mind. Rosie can tag along, like always! Something about fresh produce coming from the market makes it extra healthy to me. The prices are what I'm curious about :)
Dear Weekend Getaway- All we have to do is figure out when we are going to go! We need a weekend by ourselves outside of our normal setting. It's going to be somewhere in Florida. I have my heart set on a certain place, but I won't let it out just in case we decide on something else. It's Florida though, it will be beautiful and fun where ever we end up.
Dear emotional state of mind- Where did you come from? I don't like you and you are making me think that I'm a crazy person. Let go of those emotions and hang on to God. He's my Rock and my stability. (I'm really not crazy ya'll..Though I think that was considered talking to myself?)
Dear Lunch Date- I can't wait to spend some time with a sweet friend here and eat some yummy food! I'm so glad to have met a "local". Our friendship has grown so quickly over the last few months and I'm already sad about saying goodbye in September! So happy to get to hang out with our guys this summer, Audrey!
Thank you for reading this sometime boring blog. I can't wait to see where it takes me and who is allows me to meet! Hope your Friday is just sunny and wonderful! Have a happy weekend!
Victoria