Hello all you Friday- loving ladies,
I am so happy, happy, happy (Yes, a little DD quote for you) that it is the start to a looong weekend! I have been on the go for the past couple of weeks, so now it is time to slow it down and get back to my normal schedule. It's been mentioned that we might be going on a little canoe trip down the Black Water River on Sunday with some of our guys. Aren't we just the most adventurous couple these days?
I'm joining in on Friday's Letters over at The Sweet Season Blog. I love this link up. There are some sweet blogs to follow if you get a chance to hop over!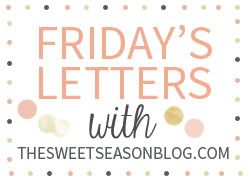 Dear Summer TV schedule, I know I'm not a big series follower, but can't there be something worth watching in the next few months? Nick is about to be very tired during the week with his new school and I might need to pick up a show. Any suggestions out there?

Dear B&BW candles, Yum. I love every one of you. Island Margarita is what is burning this week! Such a yummy, sweet summer scent! I can't wait to try out my others that I got in the mail yesterday. It was a very happy mail day.

Dear Audrey, Thank you for coming to stay with me Wednesday night! I had a blast with you, even though I probably bored you to death! Can't wait for your blog to be up!

Dear Bible study girls, Are we really on the 4th week? I am learning so much thanks to your input and encouragement. I love drinking coffee and listening to Beth Moore every Thursday! Let's do a girls night soon!

Dear Yelp (or any good restaurant reviewers), What is the best place in Destin to eat? I don't care what it is. American, Italian, Seafood, French......just let me know! What's your favorite?? I only have until September to figure it out mine! Oh dear!


I hope your Memorial Day is just fabulous! Relax and grill something!